Nan Hoover Solo Exhibition at
Museum of Modern and Contemporary Art, Rijeka, Croatia
15th October - 20th December 2020
THE MOVING IMAGE IS ALIVE : NAN HOOVER (NL/US)
A decade after the death of Nan Hoover (1931-2008), who has been inscribed in history for her significant, pioneering contribution to the development of new media art in the second half of the 20th century, the Museum of Modern and Contemporary Art in Rijeka dedicates a retrospective exhibition to her under the title of The Moving Image is Alive. In the early seventies, Nan Hoover moved from painting to performance and video art (a medium that, at that time, was brand new) and from the USA to The Netherlands. There she encountered the camera and so began exploring the new tool. Her experiments with the moving image, performance, photography and light installations are linked through the perception of space, the presence and use of light, the creation of shadows and the beauty of pure colour. A minimalist work with a poetic dimension that questions the intimacy and existence of the artist herself and touches the visitors. The exhibition will provide a cognitive experience of time, media and space. The curator of the exhibition is Sabina Salamon (HR)
Museum of Modern and Contemporary Art, Rijeka, in collaboration with Nan Hoover Foundation, Rijeka 2020 European Capital of Culture.
---
A research by Sofia Gomes, PhD fellow, Amsterdam, 2019
"In Doors, a performance, it's about opening, closing and going through doors. The projected movements, together with my 'life' and with people involved with it, become a visual metaphor for an inner feeling for the passage of time."
Nan Hoover
Doors has been adapted in three ways, in three different media: performance, video installation and photographic collage, and since 1981 have been exhibited together and individually. This work exemplifies Nan Hoover's working process – creating versions of a work based on a single theme, beginning with a photo collage, or study, and later adapting it to video and performance.
Download the introduction to her research (PDF)
---
Catalogue Raisonné
The first of three planned volumes covering Nan Hoover's art work is now available: Leach, Dawn (2017) Nan Hoover: Catalogue Raisonné (original publication on /oops/), URN: http://nbn-resolving.de/urn:nbn:de:gbv:715-oops-34632

The e-publication contains all works in the estate of Nan Hoover. In addition, it provides a review of the reception history of Hoover's work along with biographical information and lists of publications, exhibitions and performances. Images of most of the works and some documentation are also included (courtesy of the Nan Hoover Foundation).
Download the PDF at oops.uni-oldenburg.de/3382/
---
House of Impressions. Classic and Contemporary Media Art
26 May – 30 Sep. 2016. Curator: Olga Shishko. The Pushkin State Museum of Fine Arts, Moscow
The Pushkin State Museum of Fine Arts presents the first project of its newly established Department of Film and Media Arts. This exhibition (...) represents a collection of 19 artworks of outstanding video and media artists of the 20th and 21st century. The project is dedicated to the collision of the past and the present, the innovative processes which occurred in the 20th century and were related to the "liberation" of artistic tools and media.
Included in this exhibition is:
NAN HOOVER, 'Impressions', 1978, single-channel video installation
(Nan Hoover Foundation, LIMA Amsterdam)
"...An early tape that demonstrates how for Nan Hoover work in video is handicraft, in the litteral sense, and the video camera no less basic a tool than the pencil. The hand drawing light and shadows on a surface is at the same time the hand being portrayed; the light is also a tool and a concept at the same time. Hoover elicits an evocative tension between abstraction and reality, fluidly manipulating light and shadow into sculptural form with slow, concentrated movements..."
www.arts-museum.ru/events/archive/2016/impressions/index.php?lang=en
---
TRANSIT
8-17 April 2016. Curator: Ulrike Grelck. ACUD e.V., Berlin
The exhibition included the video by NAN HOOVER: 'Returning to Fuji', 1984 http://acudmachtneu.de/events/506/transit/
---
NAN HOOVER
22 October 2015 – 15 February 2016
Gallery of the Art Academy Düsseldorf - Die Neue Sammlung
(Gallery of the Art Academy Dusseldorf - The New Collection)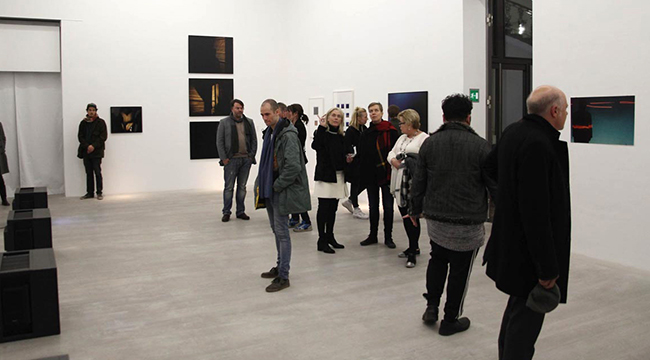 This exhibition highlighted Nan Hoover's position as inspirer, professor and practitioner of transmedial and transnational art. Together with the Art Academy Dusseldorf, the Nan Hoover Foundation presented a diversity of works from both the Academy's Archive – with newly discovered early work – and the Nan Hoover Foundation's collection. Both the central concern with slow motion and the ease with which content is translated from one medium to another were emphasized. Of special note was the successful reconstruction of two key video installations: 'Doors' (1981) and 'Black and White' (2000).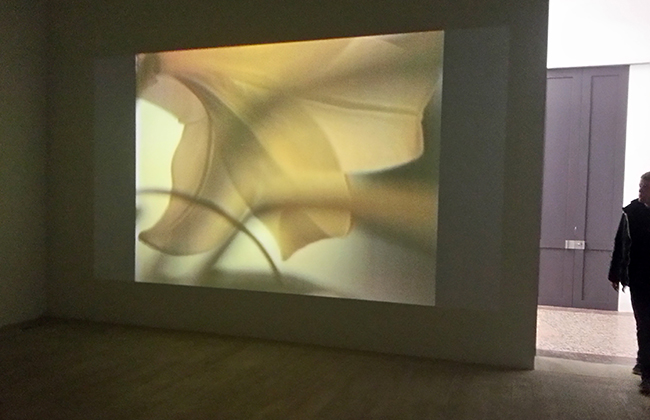 www.kunstakademie-duesseldorf.de/galerie/ausstellungen/nan-hoover.html
Read review by Rob Perrée
---
NAN HOOVER - ZEIT NATUR LICHT
19 July 2015 – 10 January 2016
Museum Kunst der Westküste, Alkersum / Föhr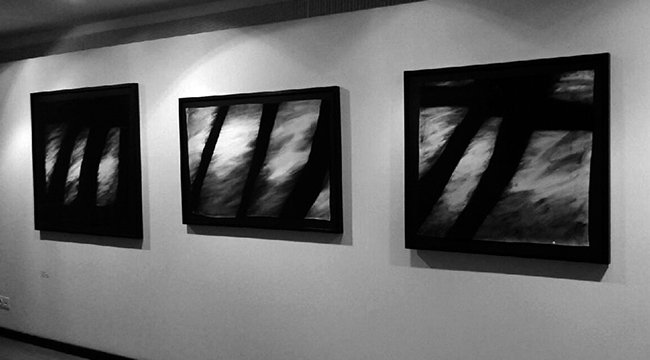 In cooperation with the Nan Hoover Foundation an extensive show of works from all phases of Nan Hoover's artistic practice was held in the spacious rooms of the as yet young Art Museum for the West Coast on the island of Föhr (founded 2009). A differentiated conceptualization of a large selection of videos, drawings, photographs and sculptures grouped in sections provided the numerous visitors with insights into Nan Hoover's artistic research, such as into the employment of moving pictures, mirroring and reflection, the phenomenon of time, or the dynamics of light and shade.